More on TG4
Underdogs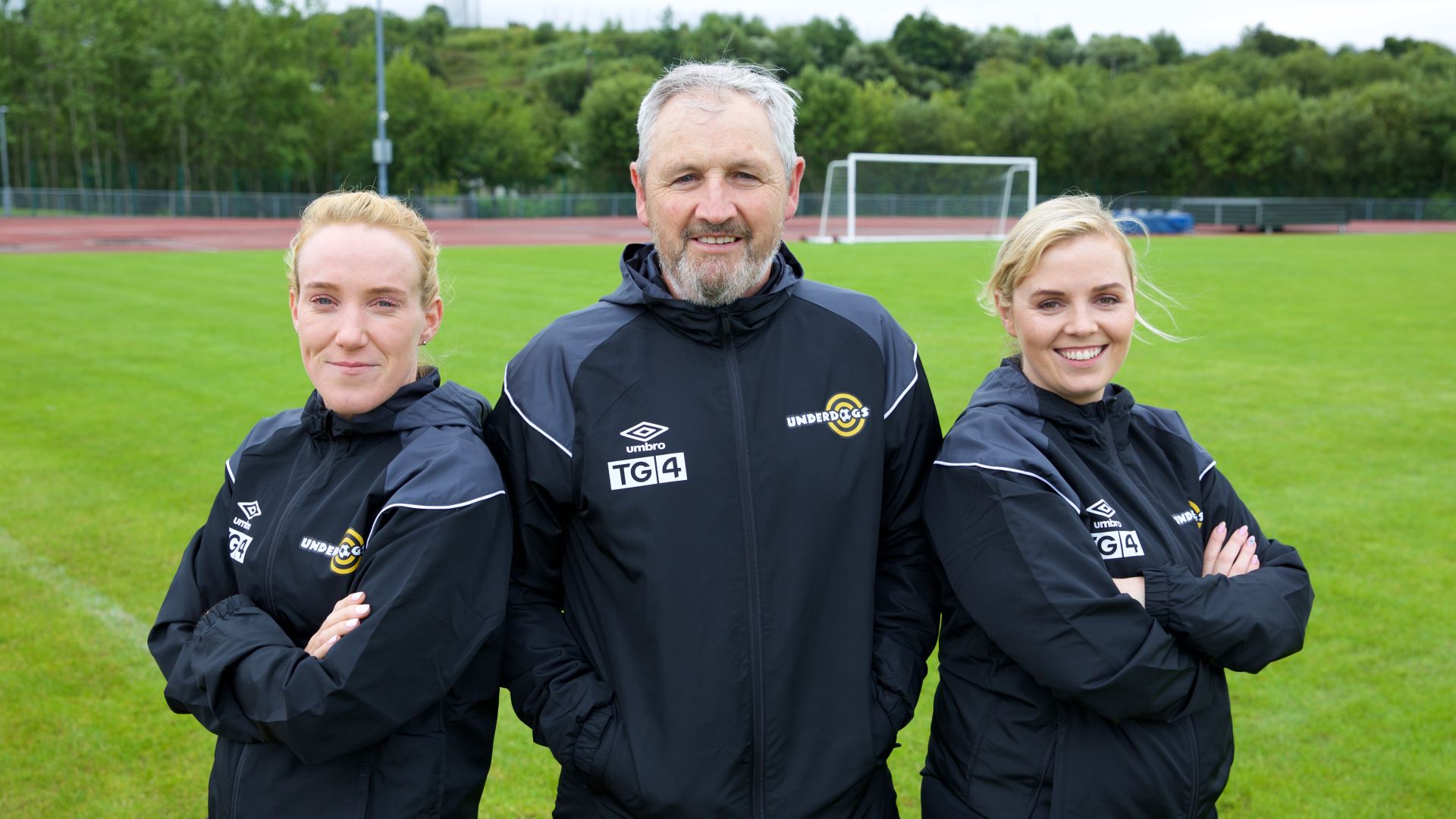 NEW - Begins Thursday 26 October @ 21:30
The Goalposts have shifted for TG4 UNDERDOGS as the legendary series tackles Women's Soccer! While the Ireland Women's National Team head for Australia and New Zealand for the 2023 FIFA Women's World Cup, back at a grassroots level, a panel of unknown club players will also have a massive opportunity to play in the big leagues.
Sacar na mBan a bheidh i gceist ar an tsraith is déanaí seo de Underdogs! Fad is a bheidh foireann sacair na hÉireann ag tabhairt a haghaidh ar an Astráil agus ar an Nua-Shéalainn do Chorn Domhanda FIFA na mBan 2023, beidh deis den scoth ag imreoirí ag an mbunleibhéal dul ag imirt leis na foirne móra.
Misneach
NEW - Begins Wednesday 4 October @ 21:30
This series follows the stories of – a married couple who took on the State to fight for the right to use contraceptives in the 1970s, explores how gay men found themselves under investigation when a member of their community was brutally murdered in the 1980s, and how an Irish priest was excluded from ministry by the Vatican because of his so called 'liberal' views in 2012.
Sa tsraith seo tráchtfar ar lánúin phósta a thug cás in aghaidh an Stáit chun go mbeidís ábalta frithghiniúnaigh a úsáid in 1972; scrúdófar na fiosrúcháin a rinneadh ar fhir aeracha nuair a dúnmharaíodh duine den phobal sin go brúidiúil sna 1980idí; agus mar a chaith an Vatacán sagart as Éirinn amach as na sagairt mar gheall ar na tuairimí 'liobrálacha' a bhí aige.
Tarrthálaithe na hÉireann
NEW - Begins Thursday 5 October @ 20:00
In this brand-new series for TG4, we follow the brave men and women of the Irish coast guard, mountain rescue teams and community rescue boats across Ireland. The everyday heroes who drop everything to come to the aid of people in need across Ireland at sea, on the ground & in the air.
Sa tsraith úrnua seo do TG4, leanfaimid fir agus mná cróga Gharda Cósta na hÉireann, na foirne tarrthála sléibhe agus báid tarrthála phobail timpeall na hÉireann. Na laochra laethúil a bhíonn ar fáil, ó mhaidin go hoíche, le himeacht ar an bpointe boise chun teacht i gcabhair orainn ar fud na tíre san fharraige, san aer nó ar an talamh.
Junior Eurovision 2023
The Final - Sunday 8 October @ 20:30
The search for Ireland's entry for the 2023 Junior Eurovision comes to an end! In this final, the power is in your hands. Once again, this year, our champion will be decided by a public vote! Which of our finalists will fly the flag for Ireland in France on 26th November in a packed arena? Whose voice will echo around the continent?
Tá muid tagtha le babhta ceannais an Junior Eurovision Éire 2023! Gheobhaimid amach cé acu de na hiomaitheoirí a thabharfaidh aghaidh ar Chomórtas Amhránaíochta an Junior Eurovision sa Fhrainc ar an 26ú lá de mhí na Samhna. Arís i mbliana, is ar bhonn vóta poiblí a roghnófar seaimpín na hÉireann. Cé a chloisfear ar an stáitse sa Frainc?
Curfá
NEW - Begins Sunday 15 October @ 20:30
'Curfá' is a brand-new entertainment series for TG4, presented by Doireann Ní Ghlacáin, in which we go in search of the best choir in Ireland. Over 10 weeks we will hear from the country's very best choirs on the Helix stage, between young and old, as they perform a wide range of musical genres; traditional Irish music, choral music, gospel music, jazz and more.
Sraith úrnua shiamsaíochta á cur i láthair ag Doireann Ní Ghlacáin ina mbeifear sa tóir ar an gcór is fearr in Éirinn. Thar deich seachtaine, beidh scoth na gcór ó fud fad na hÉireann ar stáitse an Helix, idir óg agus aosta, agus iad ag tabhairt faoi réimse leathan seánraí ceoil, ina measc ceol Gaelach, ceol córúil, ceol gaspal, snagcheol agus mórán eile.
An Gúna Bainise
NEW - Begins Wednesday 18 October @ 20:30
Brides from every corner of Ireland dust off their dresses and tell us the story of the gown and the era in which it was worn. We are introduced to wedding dresses and brides representing over 70 years of Irish society, each with a very special story to tell. Each episode will tell the story of two different dresses mixing generations and social groups across Ireland.
Croithfidh brídeoga ar fud na tíre an deannach dá ngúnaí bainise chun scéal na ngúnaí agus an ré inar chaith siad é a insint dúinn. Tá a scéal ar leith féin ag gach aon bhean, agus tugann na scéalta seo léargas dúinn ar na hathruithe atá tagtha ar shochaí na hÉireann le seachtó bliain. Ar gach clár, taispeánfaidh beirt bhrídeog ó dhá ghlúin éagsúla an gúna a chaith siad féin dúinn.
Buiséad 2024
LIVE - Tuesday 10 October @ 14:00
Analysis on Budget 2024 presented by Beirní Ní Chuinn. There will be more budget analysis on Nuacht TG4 at 19:00 and 7 Lá ag 20:00.
Anailís ar bhuiséad 2024 curtha i láthair ag Beirní Ní Chuinn. Leanfar le scagadh ar an mbuiséad ar Nuacht TG4 ag 19:00 agus ar 7 Lá ag 20:00.
Nuacht Cúla4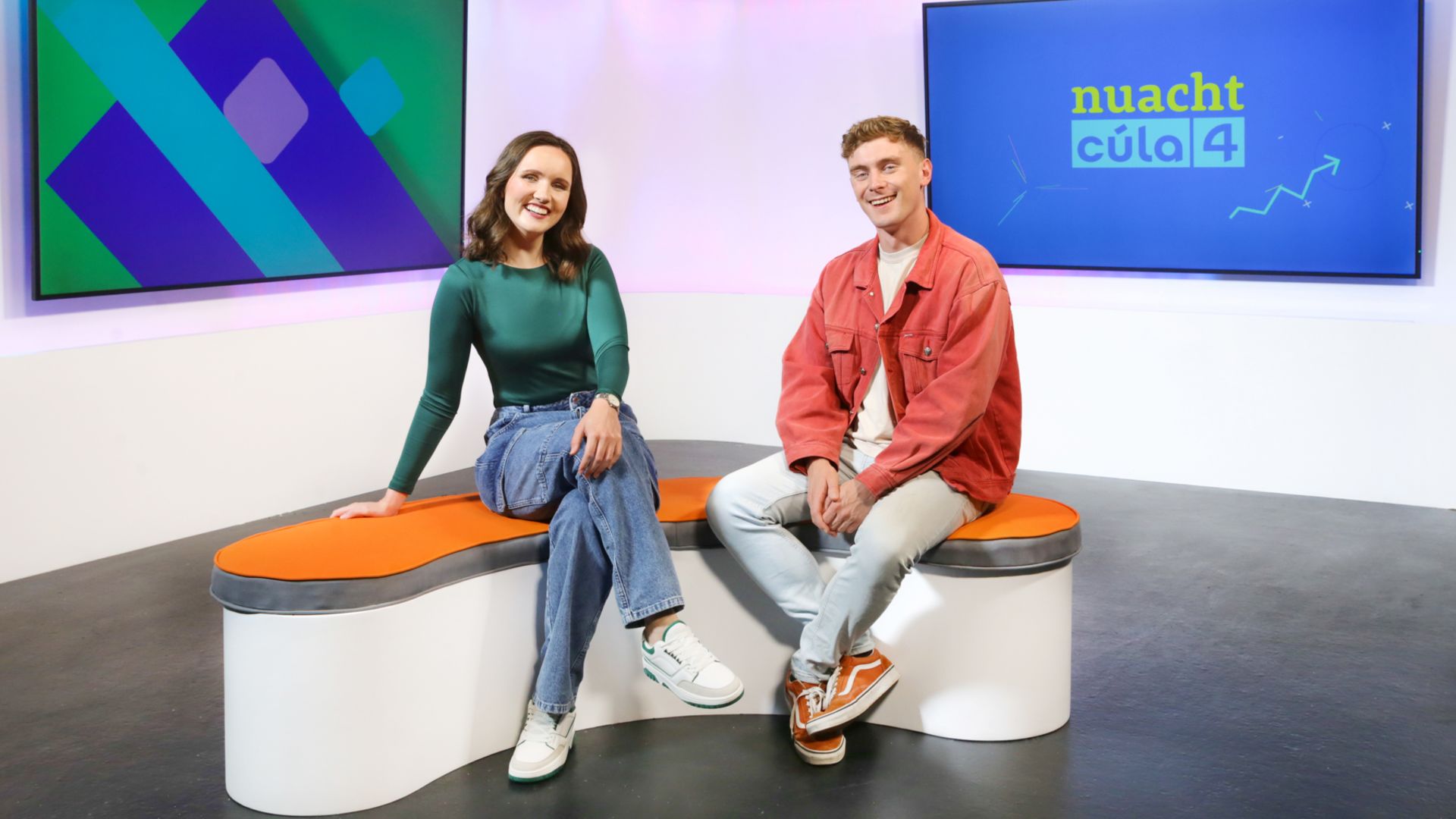 Tuesday - Friday @ 13.30 & 17:30 on Cúla4 Channel & Cula4.com
News programme for young people covering local, national and international news. Presented by Aisling Ní Dhonnabháin and Seán Ó Maoilchiaráin.
Clár nuachta do dhaoine óga ina roinnfidh agus a míneoidh Aisling Ní Dhonnabháin agus Seán Ó Maoilchiaráin na scéalta idirnáisiúnta, náisiúnta, agus áitiúla is tábhachtaí agus is spéisiúla.
Cainéal 4 Saorview; Cainéal 104 Sky
Cainéal 104 UPC; 137 HD ar UPC, 602 Cúla4 ar UPC
Tuaisceart Éireann: 163 (Sky); 877 (Virgin Cable); 51 (Freeview)
Ar fud na Cruinne: www.tg4.tv