Despite the challenges of a difficult year 2020 was a good year for TG4 as revealed in the station's Annual Report
Against the backdrop of an exceptionally challenging year TG4 performed well in 2020.
20.10.21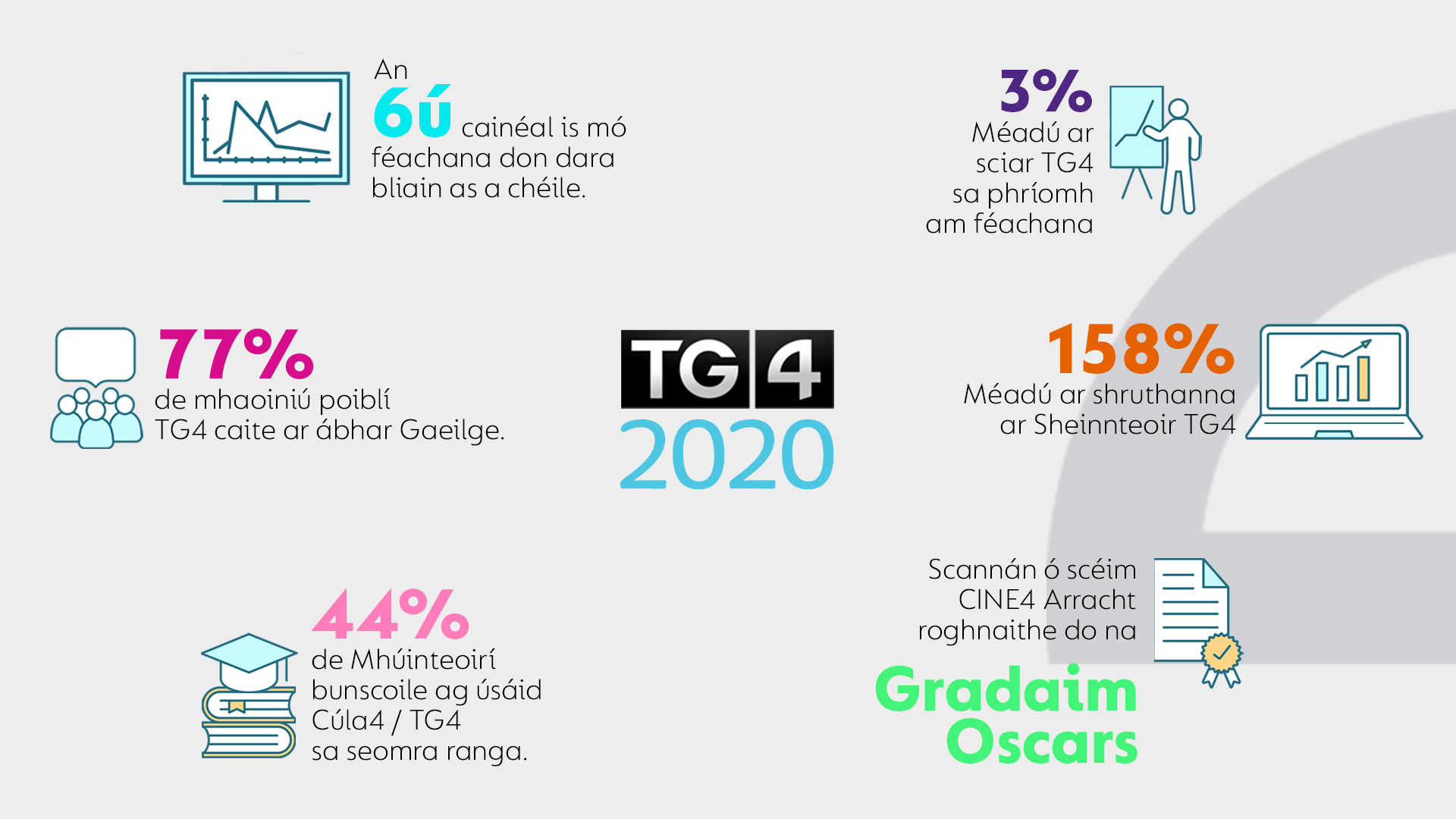 2020 was a year like no other, with the coronavirus pandemic having a profound impact on our lives. It was a year of adversity for businesses and the economy, as well as one of great sadness and hardship for many families and individuals.
TG4 responded quickly to lockdown, developing a Covid-19 strategy to ensure that people were safe by limiting productions during lockdown, maintaining a focus on the audience at all times, and assisting the independent production sector to maintain continuity of employment as far as possible.
TG4 also commissioned a new educational series Cúla4 ar Scoil for families and teachers who were homeschooling. TG4's news coverage during the pandemic provided a súil eile perspective from Irish language communities at home and worldwide. TG4's schedule provided entertainment and distraction from Covid-19 with its Sona sa Bhaile slogan, with entertainment series such as An Bhoirinn, a visually stunning & atmospheric journey over a year in the Burren, Dúiseacht, a fly on the wall documentary series as Dingle peninsula emerged from the first lockdown in 2020, Slí na mBeaglaioch, a musical journey along the west coast with father and son dou Breandán & Cormac Ó Beaglaíoch and Le Ceangal a zoomcom romantic drama series for online audiences. The Fleadh Ceoil was celebrated virtually in August and the year culminated in a joyful celebration of the Arts and Culture with award winning Arts programme Samhlú 2020.
At a time of increasing globalisation in the media market and changing audience behaviour, TG4 holds a unique place in the Irish media landscape. In 2020, TG4 retained its position as the 6th most watched television channel in Ireland. TG4 had moved up from 7th place in 2019 where it had ranked since 2014. 3.66m people or 83% of the population watched TG4 at some stage during 2020 and the average viewing share was 1.83%. There was a 3% increase in TG4's primetime audience share to 1.92%. This share and channel position was a considerable achievement in 2020 given that a significant amount of TG4's output was severely disrupted by the pandemic as productions were put on hold or delayed, and as many sporting and cultural events were cancelled. TG4's performance was down to the fast reaction of creative and production staff and of the independent producers to develop new content to respond to the crisis.
2020 also brought a major acceleration of non-linear digital media. Video-on-demand streams increased by 158% on the TG4 Player in 2020 and streams of TG4 on the RTÉ Player increased by 38%. Cúla4 Player streams, indicating children's audience levels, increased by 34% and TG4 social media views grew by 60%.
TG4 continued its investment in the Cine4 initiative with the BAI and Fís Éireann / Screen Ireland, to support the development and production of feature films in the Irish language. Reflecting this quality, Arracht was selected as Ireland's entry for the Oscars' Best International Feature Film category for the Academy Awards.
TG4 delivered new content in 2020 to connect with Gaeltacht and Irish language audiences. By engaging extensively on Irish language planning and development including creating a new TV advertising campaign to highlight Irish Language Planning work along with developing a new Gaeltacht Strategy. TG4 also engaged extensively with organisations such as Ealaín na Gaeltachta, Tuismitheoirí na Gaeltachta, Roinn na Gaeltachta and an tOireachtas to produce programming content to support their events calendar which was curtailed due to Covid.
TG4 is committed to making the best use of public funding. Every year, it invests the highest possible share of its public funding on Irish language content. In 2020 77% of TG4's public funding was invested in Irish language content. TG4 spent €25.8m on creative services in Ireland of which €21.3m was spent with regional creative companies. Of the €25.8m, €20.6m was spent with independent production companies of which €18.1m was spent with regional independent production companies. Through this, TG4 supported growth and jobs in regional creative industries, helping to sustain and build Ireland's regional creative economy. TG4's operational budget was exceeded by €1.9m due to additional expenditure incurred as a result of Covid-19. TG4 received a one-off supplementary amount in Q4 2020 to address the additional costs incurred during the year. With the support of this additional funding in what was an exceptionally challenging year, TG4 was able to meet operating budgets by year end.
Cathaoirleach of the TG4 Board, Siún Ní Raghallaigh said "I would like to thank our new Minister Catherine Martin TD, along with Secretary General Katherine Licken and her other officials in the Department of Tourism, Culture, Arts, Gaeltacht, Sport and Media. We are exceptionally grateful for the funding increase TG4 received for 2021. It is the largest amount allocated to TG4 since 2008 and we believe this additional funding reflects the confidence the Government has in TG4, and in our strategy for Ireland's regional independent production sector. PSM plays an essential role in society, representing a nation's cultures, promoting its languages and supporting its creative industries."
Alan Esslemont Director General TG4 said: "I would like to thank my colleagues in TG4 and the TG4 Board. Their hard work during what was a personally and professionally difficult year, has enabled us to continue to work effectively as a team, despite working remotely, and is a testament to their unstinting dedication to TG4. 2021 is an important landmark for TG4 as we celebrate our 25th year on air. While 25 years ago there was opposition across Irish society to the establishment of "Teilifís na Gaeilge", a quarter of a century has seen the emergence of TG4 as a genuine force for Irish language audio-visual innovation. The Board, management and staff of TG4, together with our partners, will continue in our efforts to reimagine the role of TG4 and status of the Irish language and the Gaeltacht in Irish society. We believe that media and the arts play a central role in this reimagined vision and we look forward to working collaboratively on its delivery, in the years ahead."
The TG4 Annual Report 2020 is available here: TG4 Annual Report 2020
Media Contact TG4:
Deirdre Ní Choistin | Bainisteoir Cumarsáide | Communications Manager | deirdre.ni.choistin@tg4.ie
---
Get to know us: