The power of nature during this pandemic explored in TG4 documentary
Cumhacht an Nádúir
A new two-part documentary by Red Pepper Productions
TG4 24th & 31st March 2021, 9.30pm
12.03.21
Presented by Darach Ó Murchú | Directed by Martin Danneels

YouTube Clip:

Cumhacht an Nádúir is a new two-part documentary for TG4 that looks at the solace nature has offered during this pandemic and how it may fuel the debate for a broader range of wildlife habitat and land management.



Pic: Darach Ó Murchú

A positive consequence of the coronavirus is the way in which it has led many of us to value and explore our natural surroundings. Access to wilderness areas, coastlines and parklands has provided much needed solace during this pandemic. In this two-part documentary, Cumhacht an Nádúir, we find out if this greater awareness has been of any benefit to wildlife, and whether a greater natural balance can emerge from the lockdown experience.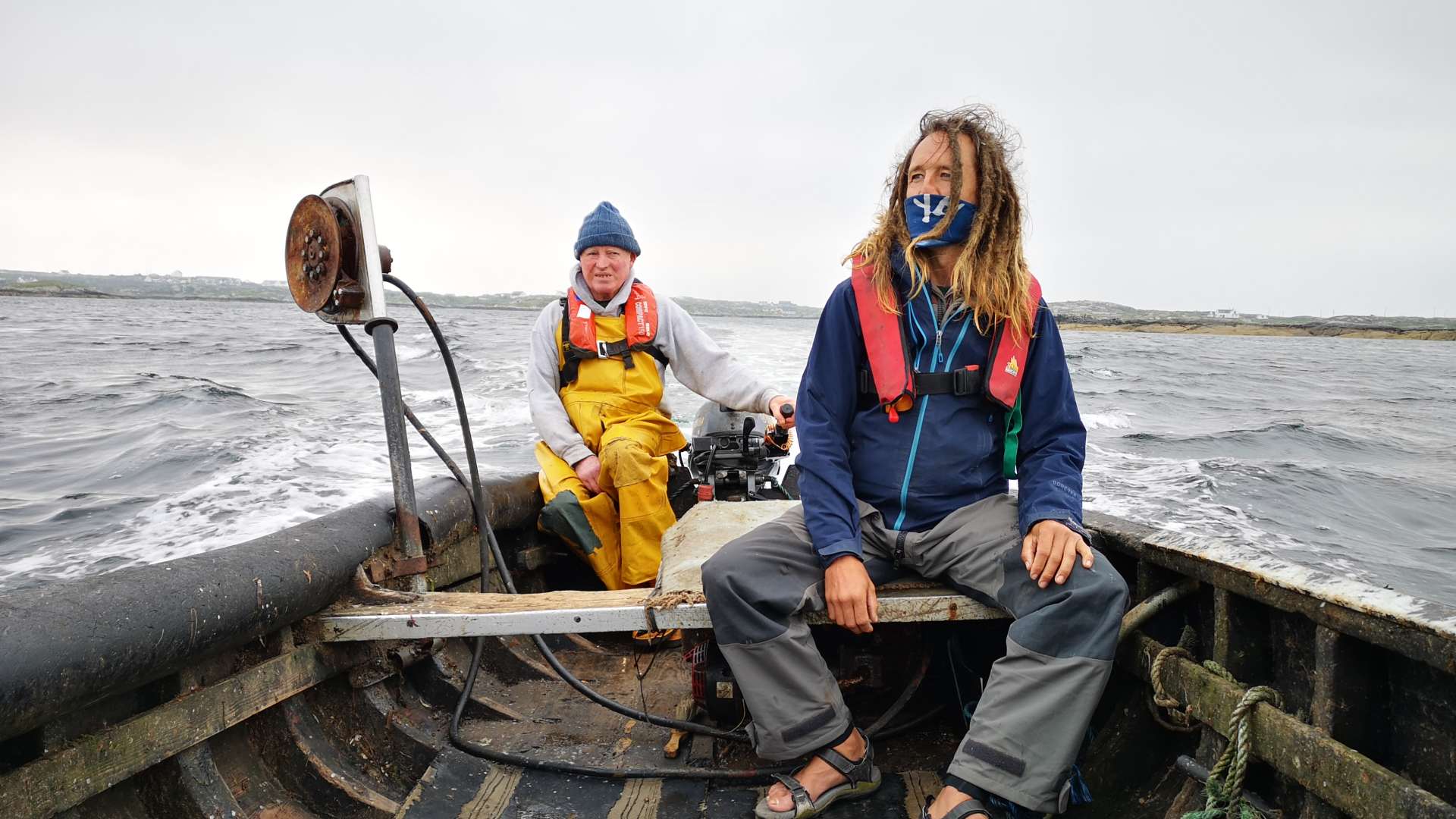 Pic: John Bhaba Jeaic Ó'Conghaile agus Darach Ó Murchú

What happens when sites fall strangely and beautifully silent, when nature is given a chance to breathe and to revive? Has this twelve-month period implanted a greater need to protect and expand our wilderness areas?
In the hands of presenter Darach Ó Murchú, an environmental educator who was given permission to travel outside of his own restricted area, we visit some of Ireland's most celebrated destinations and tourist sites: Malin Head, the Blaskets, Glendalough, and Garnish Island, as well as community spaces and local areas of beauty. We capture these locations during a near total absence of visitors and we consider how wildlife has behaved in their absence. Post-lockdown, we return to evaluate how these landscapes could be better managed in the crucial years ahead.
This pandemic and the successive lockdowns have not only piqued our interest in nature, but the hope is they might prompt long-terms adjustments in lifestyle and, by doing so, curtail our carbon emissions. There is a need to reintroduce displaced native species, prevent further loss of natural habitat and replenish our bog and wilderness areas. The pandemic has shown us that we are willing to accept and embrace change; it has also encouraged us to explore local initiatives that improve wildlife populations and biodiversity.



Pic: Darach Ó Murchú

Filming took place between March and early December and the episodes take in a panorama of sights during the lockdown experience.
While we were cocooning or self-isolating, or taking walks and runs within our two and five-kilometre radius, what was happening to some of our most celebrated and spectacular locations? How have natural sites, that usually fuel an entire economic sector, been affected by months of abandonment? And what can we learn from all of this?
* Interviews with presenter Darach Ó Murchú and contributors available on request *
A preview copy is available on request.
Red Pepper Productions' (www.redpepper.ie) previous documentaries include Fota: Into the Wild (VMTV, 2020), Born Addicted (RTÉ2, 2015) and Tar Abhaile (TG4, 2013).
Martin Danneels is director of the acclaimed RTÉ2 'Reality Bites' documentaries Ireland's Sulky Racers and Rural Addiction. He recently directed the ground-breaking documentary for RTE1, Will Ireland Survive 2050? Previous work also includes the IFTA-nominated series How the Irish have Sex (2009), and Only Fools Buy Horses (2004).
LISTING INFORMATION
Cumhacht an Nádúir
@ 9.30pm, 24th March & 31st March 2021, on TG4